Ref:
Date:
Location:
Photographer:
Ref:
Date:
Location:
Photographer:
activities/news
..
Buddhist Masters in Manchester.
An Exhibition of four large pieces designed for "A Journey to Wisdom", an event at Manchester Town Hall in celebration of the advent of Buddhism to the West, and in particular the role of Lama Jampa Thaye in that transmission.
The pieces are build on the themes of Buddhism's journey to the West, Manchester as a venue for Buddhist events over the years, Lama Jampa's activity as dharma teacher and the experience of being a member of Dechen, the dharma community that he has established across the world.
.
.
For anyone open to new ways of understanding of what it means to deal with serious illness, its treatment and beyond:
After almost a year of absence Molly has resumed her regular posting on her blog on the particular experiences of life. She communicates about this through her artwork, and starts publishing again under the new title of TOUCH by posting the first poster periodical within the theme of Illness & Wellness.
click on image for link
48 hours challenge
A group of selected Artists had 48 hours to respond to the title
Fashion
. Followed by a team of curators with 48 hours to then organise, curate and present the unseen work...
08 – 11 May (12 midday – 6pm)
Artwork Molly
from Winter PLAY to Spring WONDER 2014
(Magazine illustration)
Embodiments
After many good and endearing responses and conversations during and after the exhibition of my series 'Embodiments" it is time to plan next steps. Please keep an eye on this page where works in progress (both in relation to the series
Embodiments
and other work) will be shared.
Article 'Beyond Words - A Picture of Pain' published in Pain News, British Pain Society, Winter Issue 2012-13.
Click here to read the article (p220-224)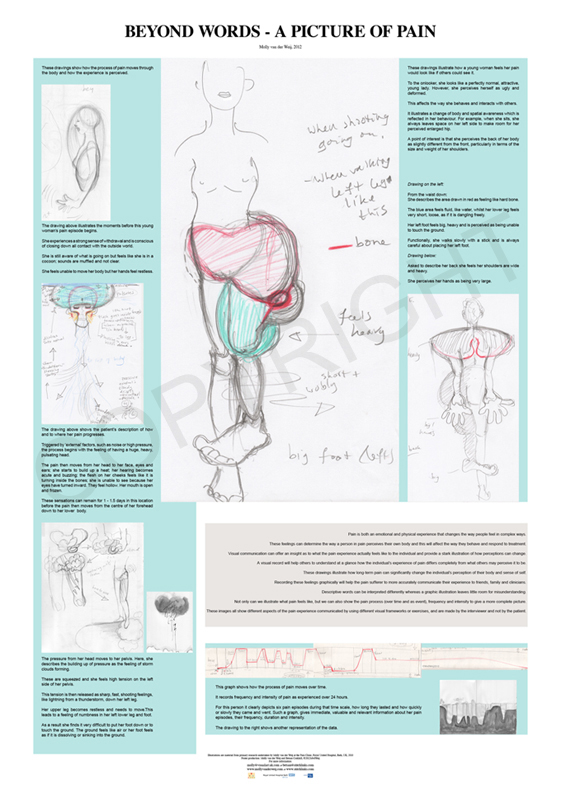 From 22-28 April 2012 Molly shows three posters entitled 'Beyond Words - a Picture of Pain' at the Creative Outputs Creative Inputs exhibition, which will run in tandem with the NOI 2012 Neurodynamics and the Neuromatrix Conference at the Adelaide Convention Centre in Australia.
The work she presents is a selection of primary research undertaken as Artist in Residence at the Pain Clinic, Royal United Hospital, Bath, UK, in 2010. It also formed part of her research project on Envisioning Experiences of People's Pain for an M.A. in Communication Design at the Bath Spa University, School of Art and Design, which won her a Distinction and the University's Innovation Award in 2010.
More about the NOI conference
Molly shows work at the Winter Art Exhibition, 9 February - 25 April 2012, at the Royal United Hospital (RUH), Bath, UK.
The work at the RUH is a selection of chalk and pencil drawings, which are part of a series she made under the title "Femininity and the Authenticity of Beauty" (Norway, 2005).
More about Art at the Heart